What customers say about us

I just wanted to reach out and let you guys know that it has been 2 years that I've had my MaierEv front spoiler (and the rest of the Maier kit) and after around 30,000 miles of daily driven, wife driven, many road trips including my most recent Yosemite trip, the full Maier kit is still in perfect condition, never had I scrape the lip kit, it still looks amazing as it did on day one.
CARBON FIBER FRONT SPOILER FOR TESLA MODEL 3
We made these for a customer running in the Time Attack Global race event held at Buttonwillow, CA. The results we very positive dropping seconds off the lap times as a consequence of high speed stability.
The front spoiler is designed to reduce the amount of air going under the nose. A nice bi-product is that it also directs air up into the radiator. Additional cooling under significant spirited driving is helpful on the EV/Tesla. We found roughly 1 second in lap time improvement in this design.
Details: We use plain weave Toray carbon fiber 3k TOE, 200gsm dry. This is woven by Composite Fabrics of America in Taylorsville, NC. We also use a layer of fiberglass in the middle for impact or damage stability. We use polyester resins & clear gel coat for Marine applications to address the UV stability. NOTE: We have made epoxy parts for years. Many will argue that epoxy is the only true quality product. I would have agreed PRIOR to this project. These parts see the daylight and sun year round. Very few products do well in the sunlight "even with" UV stabilizers. We have found the down side to epoxy is they don't work well in the sun and with paints. Everyone says using Polyurethane paints over epoxy are the way to go. These statements are WAY to general and in our experience, not 100% accurate. While many people may wrinkle their noses at the polyester, we are rolling with it and believe this is the best material for the application.
While we strive for perfect parts yet these parts are hand made and it is not unusual to find pin holes or imperfections in the finish.
For customers outside of the US: please contact us to place your order: sales@maierev.com. 
DETAILS
We make these here in California by hand. Our goal is to make perfect parts yet, subtle distortions in the weave or pin holes in the gel coat are not unusual.
With the right materials, the install is relatively easy with: 3M adhesive promoter #06396 and double sided tape #06383. The part is designed to be bolted under the nose in 6 locations with 2 sided tape on the top leading edge. We would also suggest using 3M helicopter tape to protect the front surface from rock chips and road abstractions, 3M polyurethane protective tape 8674.
We make all of our spoilers the same way. Clear gel coat, carbon fiber, then fiberglass in the middle for some damage toughness, and finally carbon fiber.
When the part comes out of the molds, they need to get some refinishing and touch up work done. If there are un-repairable imperfections in the finish, like serious distortions in the carbon weave, we will primer it gray or black and sell it at a discount. In this case the customer will paint it the same color as the car or vinyl wrap it. It is a good quality part with a primer or painted surface to cover up cosmetic imperfections.
To get help with the install go to: http://www.brooksmotorcars.com/ Brooks Motor cars can do installation at their 3 locations, see Terry or Tony G – (510) 632-8901.
Parts size: 70.5″ by 20.5″ by 3.25″ 4 lbs.
Box: 71″ x 21″ x 5″ Goes UPS small package to most locations in North America.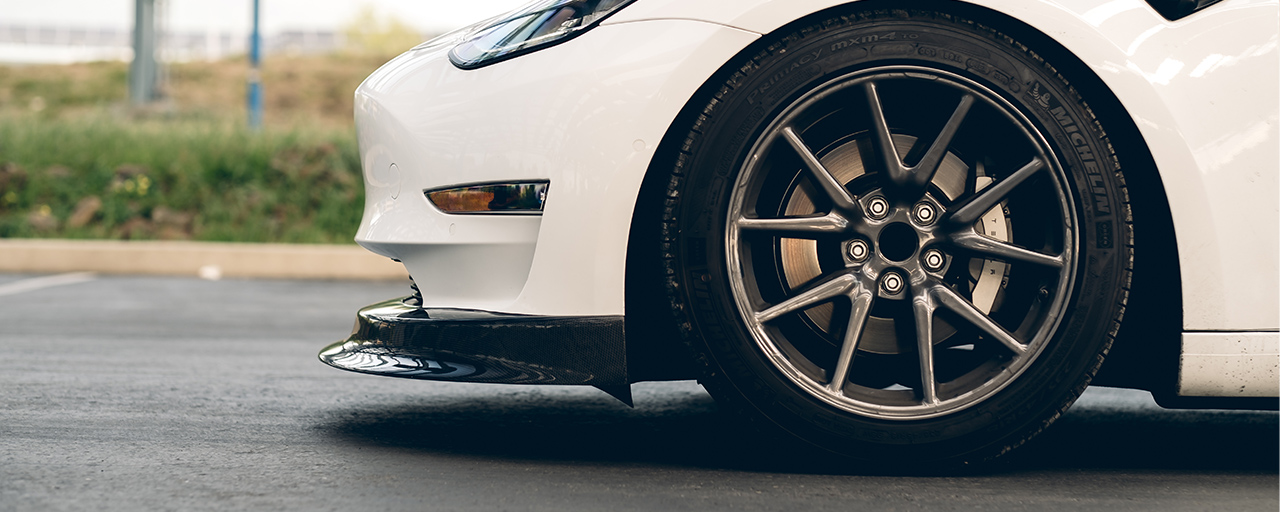 Questions?
Do you have any inquiries? Email us at sales@maierev.com or call:
+1 510 581 7602